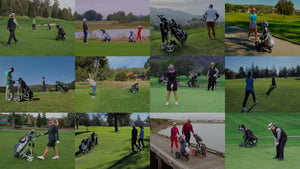 STAY FIT - SAVE MONEY - LOWER YOUR HANDICAP
america's favorite remote-control carts!
BATCADDY is the Revolution! Save Money, Feel Better, Play Better! More people are golfing, and more golfers are walking than ever before. BATCADDY has been leading the Electric Push-Cart industry in the US since 2004 and remains the best value in the game today. With multiple models and battery options, there is a Batcaddy for every golfer and budget. Join the BATCADDY family and see how it feels to Walk Like a Pro today!
Which Battery is right for you?
The heart of every electric powered golf caddy is the battery. BATCADDY has the most diverse battery line-up in the industry. And we are the only brand that allows you to mix and match a wide selection of our batteries with the Batcaddy X3, X4, and X8 models. Click here to see our battery comparison chart and see which battery is right for you!
★★★★★

Still loving my Bat-Caddy and see no decline in the battery! I have just about converted a friend to join the Bat-Caddy family... This past Sunday he asked to switch with me as we went up a hill. I pushed his Sun Mountain and he followed my Bat-Caddy, by the top of the hill he was serious on getting one... Thanks again for a great product!

Dennis C.

Cisco, TX
★★★★★

I absolutely love my Bat Caddy X4R! Very easy to assemble, It's light and easy to use. It's very responsive, a regular work horse, streamlined with good looks! Everyone that has seen it has been impressed! Why would anyone want any other electric bag caddy? We may be ordering another one for my wife soon.

Rip R.

Yorba Linda, CA
★★★★★

I have used my X4R cart for five months now and I truly love it. I researched many electric carts before making my decision to purchase the X4R. There are many electric carts on the market, and most of them are very expensive, very ugly, or both. The X4R is such a simple and elegant design and always attracts attention. I appreciate its lightweight and excellent design and construction at a reasonable price. Your customer service has been as exemplary as the design and value of this cart.

Jim G.

San Mateo, CA
★★★★★

My new Bat-Caddy is as great as the other reviews state. Now I just take a walk in the park when I go golfing. Before, I liked to walk with my push cart or carry my bag. But, you know how it goes on a hilly course by the middle of the back nine. I got tired like everyone else. Now, it's a different story. I tell my wife after every round how much I appreciate her Father's Day gift to me a month early back in May.

Terry H.

Bellefountaine, OH
★★★★★

Looking forward to a great future of golf with my Bat-Caddy. FYI, three other members of our club have purchased the Bat-Caddy X3R in the past month. One gentleman did all the research and found that the Bat-Caddy had the best value (quality, functionality and cost.) About 65% of our members walk our two private courses and I expect that after they see how walking becomes a bit more easy with the Bat-Caddy more may opt for remote controlled push carts.

Tom W.

Wallace, NC
★★★★★

I wouldn't even consider the Kangaroo, Bag Boy, or PowaKaddy because of styling. I think the Bat-Caddy balances performance/price and styling extremely well. What it allows me to do it walk the golf course erect rather than bending forward as I pushed my Sun Mountain around.

Gordon S.

San Rafael, CA
★★★★★

I love my new Bat-Caddy X3R! I played 2 rounds so far and it is fantastic. It set up very easily right out of the box. I was hoping to give it a test run at the local park but I ended up getting an early tee time the next day after delivery and I can honestly say it is very easy to use. I love walking off the greens and not having to go retrieve my old push cart. It really keeps you in the flow of your game. The remote control is small enough to fit in any pocket. This was a great investment in my health and golf game. Thanks for offering a great product!

Tom Z.

Eatontown, NJ
★★★★★

Just a short note to say thank you. As you know my Bat Caddy went swimming... At your suggestion to work with Ron in your service center, I couldn't be more pleased. Ron has provided the best customer service that I have experienced in the last five years. He was very professional, courteous, and truly wanted to help... I commend him for his efforts. His actions reflect very positively on your company! I would and will recommend your product, and more importantly, your customer service to anyone. You have a customer for life and I wish you every success.

Hugh S.

Carlisle, PA
★★★★★

I ordered and promptly received a new Bat-Caddy X4R last week. After three rounds I am very happy with its performance! Prior to ordering the only reservation I had was not being able to find reviews on your products other than on your website. I was able to speak directly to a Bat-Caddy user who was very satisfied. I took the leap of faith and couldn't be more happy. The X4R was a present for my 51st birthday. I have always walked and carried my bag. Thanks to your product I hope to be walking the course for another 25 years.

Bill G.

Cincinnati, OH
BATCADDY - A Leader Never Follows
Welcome to the Leading North American Brand of Electric Golf Push Carts!
Batcaddy - Electric Golf Caddy offers a proven, well designed, high quality and great value series of electric motorized push golf carts for every golfer, course environment and budget, backed up by the best customer service and long term business stability in the industry. A real company with real people! 
Learn More